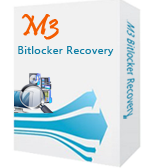 M3 Bitlocker Recovery for Windows
M3 Data Recovery Professional
Data recovery suite, including Data Recovery, RAW Drive Recovery, Bitlocker Recovery
Product comparison
Product
M3 Bitlocker Recovery
Professional
M3 Data Recovery
Professional
M3 Data Recovery
Technician

US$179


(excl. VAT)


US$199


(excl. VAT)


US$299


(excl. VAT)

Bitlocker Recovery: Data recovery from inaccessible, failed, damaged, corrupted, deleted or lost Bitlocker encrypted drive (

Password or 48-digit recovery key is required

)
-
RAW Drive Recovery: Recover

RAW drive (non-encrypted)

and change RAW to NTFS/FAT32 without data loss
-

Bootable media (ISO) - Dongle activation

-
-
Support data recovery from RAW SSD
Save, load and resume scan session for continuous recovery
Support Windows XP/Vista/7/8/10 and Windows Server 2003/2008/2012
Supported file systems
exFAT, FAT32, NTFS
exFAT, FAT32, NTFS
exFAT, FAT32, NTFS
Supported activation type
Internet access
Internet access
Internet access

Provide technical service to the clients

-
-

Built-in deactivate option

-
-

Licensing type

One computer
One computer
One technician
License term
Lifetime
Lifetime
Lifetime
Upgrade policy
Lifetime free upgrade
Lifetime free upgrade
Lifetime free upgrade

US$179


(excl. VAT)


US$199


(excl. VAT)


US$299


(excl. VAT)

Tips: How to use the scan session of M3 Bitlocker Recovery for continous recovery after purchasing M3 Data Recovery?
1. Click Help menu and select Save session to save current scan session, then exit M3 Bitlocker Recovery.
2. Download and then install M3 Data Recovery. After launching M3 Data Recovery, choose Bitlocker Recovery module, select the same drive, then click Help menu and select Load session to load previous saved scan session for continous recovery.
30 Days Money Back Guarantee
Transactions Protected
High Success Rate of Recovery
Free Technical Support